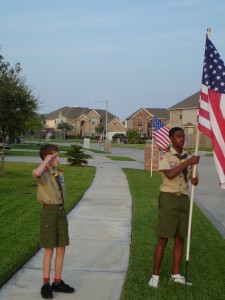 Boy Scout Troop 615 has been proud to perform a patriotic service by posting American flags in your neighborhood for over a decade. Your subscriptions have helped fund Summer Camp and High Adventure activities for our Boy Scouts as well as fund the general operation of the troop.  100% of your money is used within the local Troop directly benefitting the youth of your community.
We are continuing the mail-in subscription program for our subscribers to make the renewal process more convenient. If you have a neighbor that is interested in the program please have them contact us at the email or number below. There is no change to the subscription plan. A Troop 615 Scout will post a 3' x 5' flag on a 8' tall pole in your front yard on the morning of the five holidays listed below. The flag will be recovered in the evening of the same day.
Memorial Day, 5/27/2013
Flag Day, 6/14/2013
Independence Day, 7/4/2013
Labor Day, 9/2/2013
Presidents Day, 2/17/2014
In case of severe weather, we will post flags on an alternate holiday
2013 Flag Posting Subscription Service Form
We currently provide this service in the following neighborhoods:
Brittany Bay
Brittany Lakes
The Landing
Clear Creek Village
Centerpointe
Please email 615flags@gmail.com for additional information.